Today I purchased the last available ticket for the Newport Mesa Home Tour about an hour and a half after it started. Sometimes I procrastinate on purpose, but today it was actually because I hadn't heard about the home tour until I drove passed a sign this morning.
One of my favorite homes on the tour was the Bay Shores residence of Diane Nelson, owner of
SCAPE
(Southern California Art Projects and Exhibitions) in Corona Del Mar. The decor was stunning (designed by ML Stockwell Interiors), and I absolutely loved how the home owners decided to keep the existing house from the 40's instead of doing a tear down and rebuild. Even though the ceilings were a little low at times and the floor plan wasn't as "open" as some would like, I really appreciate that kind of preservation of history and character.
But what I loved most about the house was the amazing art everywhere I turned, which is to be expected judging by SCAPE's aesthetic and taste. The art spoke to my soul and I wanted to own every piece, not to mention that the framing and placement were spot on - I wouldn't have changed a thing. Like many art lovers, I really do have an appreciation for all types of art, but there are just certain pieces that make my heart skip a beat. They are the pieces I'm dying to take home with me to make a plain wall something amazing and a good room something great. I have a love of oil paintings in muted colors no matter the subject. I obsess over abstract charcoals and pencil drawings. Any art portraying the human figure, especially sketches, I absolutely love. I also adore portraits that are painted, penciled, collaged...the list goes on.
I'm not sure if I was allowed to take photos, I'm guess not since no one on the tour was taking any, but I couldn't help myself. Here are a couple quick shots that I snuck of the upstairs landing which had a beautiful collection displayed down to the floor.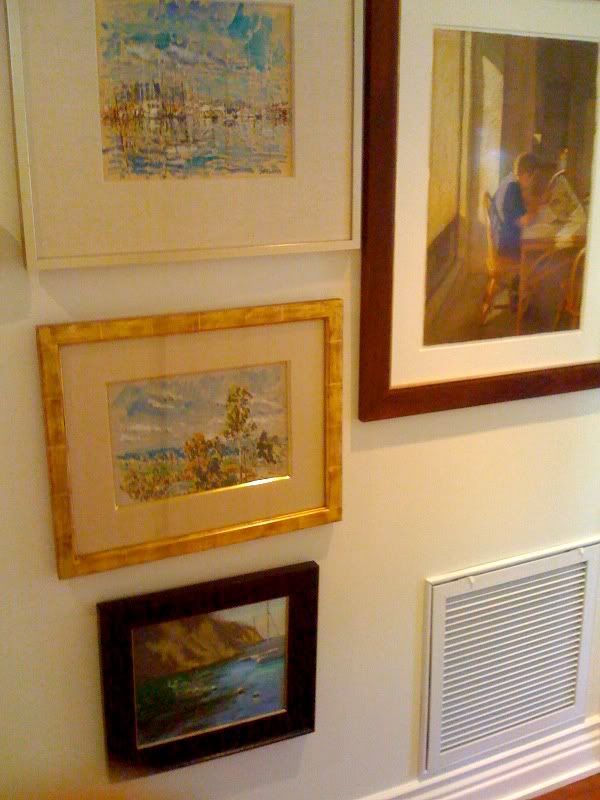 The works in Diane's home were exactly my taste, and yes...my heart did skip a beat.
Below is a smattering of art that has been previous exhibited at SCAPE. If you're looking to continue or start a serious art collection, SCAPE can help you in your art journey, and judging by Diane's own collection, I think you'll be in good hands.
Eric Zener
Wolfgang Bloch
Michael Eastman
Jeff Leonard
Julie Easton
Marco Sassone
Paula Rubino