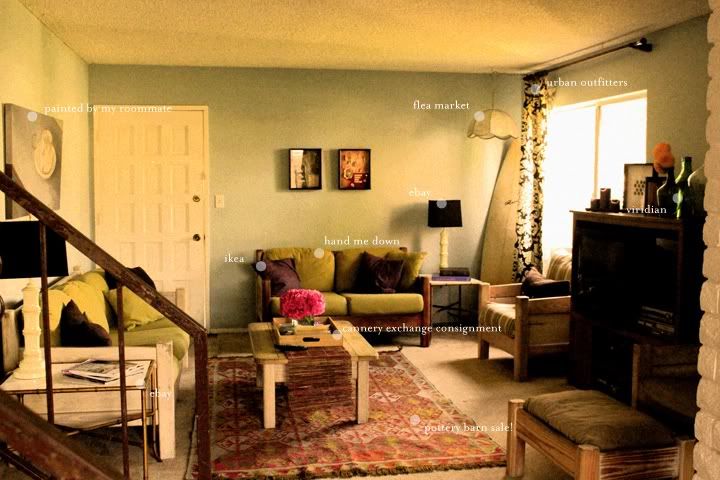 If you were to tell me that I would take 2 months off of blogging only to come back with a post featuring my apartment, I would have never believed you. Not in a million billion years.
Alas...never say never, I suppose.
I moved to the Balboa Peninsula about 7 years ago to a beach apartment that I shared with 4 other girls. I was 21 and just starting school at FIDM. I shared a TINY room and a microscopic closet, but I was about a 20 second walk from the beach, which made it all worth it. After about 9 months in the beach apartment a friend of mine offered me a private room in a townhouse just up Newport Blvd for $300. Yes...$300. For those of you familiar with real estate in the Southern California area, you know that renting a room for that much is basically unheard of.
I finished FIDM about 6 months after moving into the new place and then got my first ever big girl job as a design assistant for a firm in Laguna Beach. 2 years after that I started doing my own thing and haven't looked back since. The plan was never to stay in this little apartment of mine for too long. It seemed like every year I would say, "There's no way I'll be here for another year". At one point back in 2007 I almost didn't sign a deal with DishNetwork because the contract was for a whole year. I only acquiesced when they assured me that they would come and pack and move my service to wherever my new home would be.
My place is 4 bedrooms and I share it with 2 other fabulous and creative girls. The 4th room is my office, and rent is still dirt cheap. Saving so much on living costs and office overhead gave me the freedom to follow my dreams and start my own design firm at such a young age. It has given me the freedom to travel more and buy more shoes, which is why I guess I have stayed so long, even though that was never my intention.
The townhouse is old and has really bad carpet in the living room and chipping linoleum in the kitchen; both which I desperately wish my land lord would replace. We are also rockin' the lovely popcorn ceilings so ubiquitous in the 60's and 70's . The windows are so old and decrepit that if it's windy outside, our drapes still blow even if the window is closed. The list goes on, but I'll stop there. Don't get me wrong, it's not all bad. For instance, we have a really cool double sided brick fireplace separating our living room from the dining room and our landlord let's us paint the walls any color we want. Also, for such an old place, the floor plan is pretty top notch; no weird spaces or proportions of rooms, no awkward diagonal walls.
But the worst confession I have to make about my apartment (which you'll notice from the photo above) is that I have never officially decorated. Because I never thought I was staying for too long, I always just saved my decorating dreams for my "soon to be
real
home'. You know, the one with hardwood flooring, high ceilings, and beautiful window casings. So here I am, 6.5 years later, a self proclaimed professional designer, and the place that I call home is still full of hand me down furniture and random items that I have collected along the way. I think being able to create beautiful and unique homes for each of my clients every day has satisfied (for now) my design urges. I know that someday soon I'll move away and create a space of my own that looks like a designer showhouse, but for now this is home and I love it just the way it is.